Lima Express Bus
27-Dec-2019 • Lima Peru
---
I have long wanted to write about the Lima Express Bus since we traveled to Lima last Thanksgiving or November 2019. We took it from the Lima Airport upon our arrival in the city. We read lots of positive reviews and while there were some who weren't happy with it, we recommend it and we wouldn't hesitate taking it again when we return to Lima to go to our hotel in Miraflores.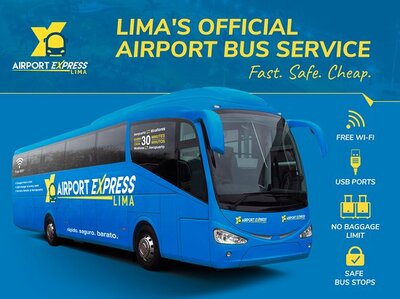 The fare was cheap. We paid $8 each and yes, the staff at the booth upon exit of the arrival hall not only accepted payment in Soles, the Peruvian currency but in US Dollars too. We paid the same amount to the bus conductor when we returned to the airport at the conclusion of our trip.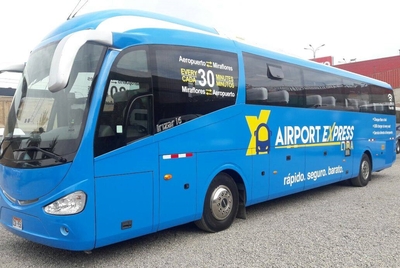 The travel time from the airport to Larcomar when when arrived was 1 hour and 45 minutes. Yes! It took that long since traffic was bad. The return trip took just as long at 1 hour and a few minutes. Can you imagine how much we would have paid had we taken a cab instead? No siree! It would have cost a lot more.
Be forewarned that the shuttle will not take you to your hotel's door. There are designated stops and you should know which stop is closest to your hotel. In our case, our hotel was the IBIS Larco Miraflores a few yards walk from their Larcomar stop. It worked out perfectly for us.
The bus employee who welcomed us aboard reminded us of the free internet on board. When we tried to log in though, it didn't work. So just bear this in mind. Other travelers complained of the piss smell on board. We didn't experience it at all. The bus was clean and comfortable. Another complaint we read about was that it doesn't arrive at the designated stops on time or that it doesn't show up at all. All we can say is that traffic in Miraflores or Lima for that matter is bad. I can imagine the bus not arriving on time in certain places. In our case Larcomar was the last stop from the airport and the first on the way back to the airport. We woke up early on the day of our departure for the US and we were at the Larcomar stop 15 minutes before its first scheduled departure for the day which was 6 am. It showed up on time and it stayed there for several minutes as it waited for other passengers.
Do remember that since you will only be paying $8, don't expect luxury.